Welcome to the City of Bangkok. Bangkok is without doubt the the world's most dynamic city. You will enjoy your stay here because this is probably the best holiday destination in the world. If you have been here once you will definitely want to come back. And if you haven't already purchased yourself a condo in Bangkok you will need a place to stay. Which Hotel will it be? I highly recommend you to stay at a Hotel in the Siam – Pratunam Area since this is the center of the city. There are more than 1000 hotels in Bangkok so you will need some guidance if this is your first trip to Wonderland. I will forgive you if you leave Bangkok to spend a few days in Pattaya. In Pattaya you must of course stay at a Beachside Hotel, it is highly recommended because of the nice sea views.
Bangkok really does have everything you could ever wish for. World Class 5 Star Hotels, a huge variety of Restaurants, value for money shopping – you can shop till you drop. T-Shirts for 100 Baht – At that price I always buy a few. And we must not forget the Nightlife Scene that is unlike anything you have ever seen before.
Central Embassy & Park Hyatt Bangkok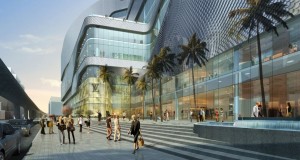 Central Embassy is the name of the new Shopping Complex under construction on the corner of Wireless Road and Ploenchit Road.
Thailand's largest retail conglomerate, Central Retail Corporation (CRC) that is part of CENTRAL Group of Companies is developing a 10 Billion Baht project called Central Embassy. The project is located in the heart of Bangkok, it includes an iconic 37-storey tower and it is set to become Asia's ultimate shopping destination and home to the first Park Hyatt hotel in Bangkok.
Central Embassy is a world class project that is a first in Bangkok and it is the most ambitious undertaking to date in Central Retail Corporation's history. Read more….
The Coast Bangkok and a Living Mall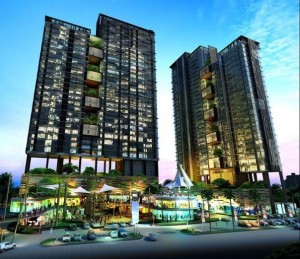 The Coast Bangkok is located on Sukhumvit Road near BTS Station Bangna. It is a great location with the Skytrain at its doorstep, near the BITEC exhibition centre and close to the Bangna-Trad Expressway and just 10 minutes from Suvarnabhumi Airport. A strong selling point is that by living here you will escape the traffic jam in central Bangkok.
The Coast Bangkok is a project comprising two high-rise condominium towers and a lifestyle mall. Tower A is 39 stories high and contains 412 units while Tower B is 35 stories high and contains 417 units. The owner and developer is BKK Grand Estate Co., Ltd. Read more….
IKEA & Mega Bangna Grand Opening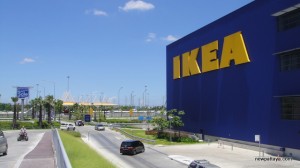 Mega Bangna & IKEA. The Grand Opening of Mega Bangna was on 5 May 2012. IKEA Bangna already had its Grand Opening 3 November 2011 and this is the very first IKEA store in Thailand, its opening hours 10.00–22.00 daily. IKEA that is a swedish home furnishings store is part of the Mega Bangna Complex.
The Mega Bangna & IKEA Complex is located on the intersection of Bang Na-Trad Road and the Outer Ring Motorway System. So we are in the Bang Na area, a 10-minute drive from Suvarnabhumi International Airport. I have heard there is a free shuttle bus from BTS Udomsuk at Exit 5. They say the shuttle bus goes every 30 minutes. Read more….
Grand Opening of Novotel Bangkok Platinum
On the 19th of June 2012, Novotel Bangkok Platinum celebrated its Grand Opening. With glitz, glamour, array of stars and invitees, the honorary guest list was led by His Excellency Khun Palakorn Suwanrath Privy Councillor.
The celebrity appearances were made by Yaya Urassaya, Aum Atichart, Jeab Pijtra, Ken Phupoom, Ice Apisada, and Matt Peeranee.
The evening was celebrated with a very special champagne pouring ceremony by the owners of Platinum Fashion Mall and Novotel Bangkok Platinum – Khun Surachai Chotjurangkool, Khun Chatchawal Pongsuthimanas, Khun Piroon Limpiviwatkul and Khun Punjaporn Chotjurangkool.
His Excellency Khun Palakorn Suwanrath Privy Councillor, Khun Surachai Chotjurangkool CEO of Platinum Group, Khun Oswald Pitchler Vice President of Accor Thai, Cambodia, Laos and Khun Sagar Naker General Manager of Novotel Bangkok Platinum, welcomed the guests and the members of the press by cheering to a celebratory toast for the official Grand Opening Ceremony of Novotel Bangkok Platinum.
Biz Art team headlined the evening with a spectacular show of aerial acrobatics, live musical performances, shadow dances and a magnificent fashion show. A special appearance was made by Leng Rajanikara Kaewdee who recently left audiences in awe with his skills on Thailand's got Talent. The fashion show was created from garments bought from shops in the Platinum Fashion Mall. The shops included Classic Accessories, Top Bags and Care for Carl K.Vince.
"Our hotel not only offers an unrivalled setting but also combines numerous comforts, modern facilities, great value, service excellence and the Novotel Brand, which in itself carries the reassurances of a prestigious global hotel chain. Today we had the chance to officially celebrate our presence in what is already becoming the hotel of choice in the Pratunam area" said Mr Sagar Naker, General Manager.
The Ritz-Carlton Residences
The Ritz-Carlton Residences
Sorry, we have not started yet. Quite busy at the moment…..